Celebrate HM The Queen's Platinum Jubilee Aboard Britannia
The Royal Yacht Britannia was home to Her Majesty The Queen and the Royal Family for over 40 years, sailing one million miles around the world. Berthed in Edinburgh's historic Port of Leith, Britannia is now a five-star visitor attraction and exclusive use evening events venue. There are five main decks to explore with a fascinating audio guide included telling stories of life at sea in both an adult and children's version. Visit this Platinum Jubilee year to discover the ship described by Her Majesty as the 'one place I can truly relax.'
The highlight of our Platinum Jubilee celebrations will be the former crew of the Royal Yacht returning for 'Yotties Week', from 30 May - 3 June. The teak decks will be bustling with the padding plimsoles of 65 former Royal Yachtsmen who are returning to their duties on Britannia once again.
We will also be offering a special Platinum Jubilee Private Tour of Britannia. The captivating behind-the-ropes tour gives an insight into how the Royal Family and 220 crew lived and worked on board. Britannia was the one Royal residence for which both The Queen and Prince Philip had final say in its design. The Royal couple approved plans and personally selected furniture, fabrics and paintings for what was to become their floating palace. Guests will hear stories of life on board and discover what made Britannia so special to all who knew her.
Platinum Jubilee celebrations on Britannia will also include the following:
Celebratory dishes and cocktails in our Royal Deck Tea Room
The Royal Collection's Official Platinum Jubilee China is available in our Gift Shop
Musical entertainment for visitors in The State Apartments on June 2
A city-wide Corgi Treasure Hunt
Come aboard and join us to celebrate this momentous Platinum Jubilee year!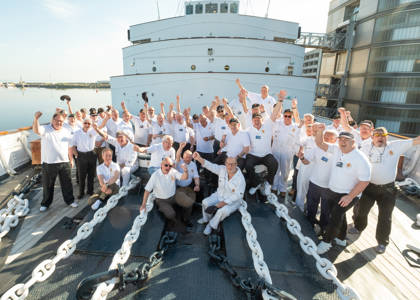 Yotties Week
Step aboard this Yotties' Week, Mon 30 May - Thurs 2 June, to see the former Royal Yachtsmen don their white overalls once again and return to their beloved Britannia. Working alongside our current maintenance team you'll find them painting, scrubbing, sanding and polishing.