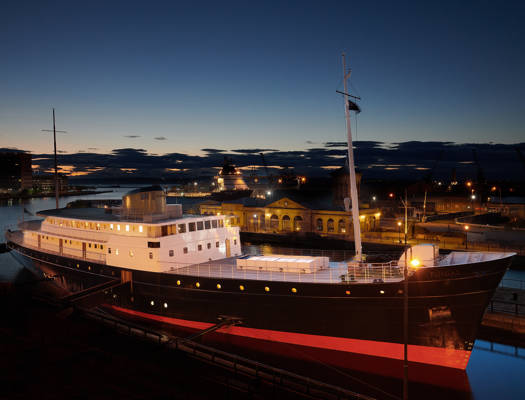 Fingal
Purchased by The Royal Yacht Trust in 2014, former Lighthouse Board tender, Fingal has been transformed into a 23-cabin luxury floating hotel and is TripAdvisor's No.1 hotel in Edinburgh. With a stunning Ballroom, seating up to 80 guests, and The Lighthouse Bar for Afternoon Tea or a light Evening Supper, Fingal offers the perfect venue for special occasions. Fingal was launched in August 1963, and was the last ship to be built by the Blythswood Shipbuilding Company in Glasgow. Registered in Leith, Fingal was in the service of the Northern Lighthouse Board, spending 30 years working out of Oban with the final 6 years based in Stromness, Orkney. At 239ft, the ship is two thirds the size of Britannia.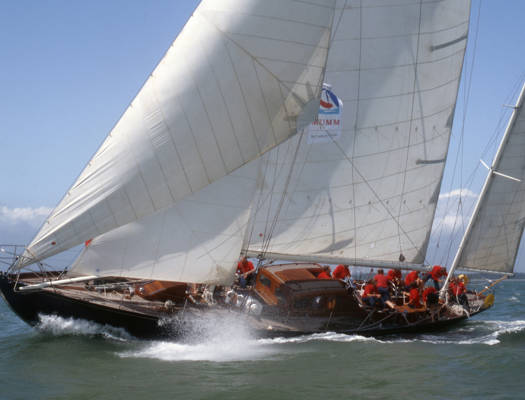 Royal Racing Yacht Bloodhound
The classic 1930s ocean-racing yacht Bloodhound was owned by Her Majesty The Queen and Prince Philip in the 1960s and was the yacht on which Prince Charles and Princess Anne learned to sail. Purchased by The Royal Yacht Britannia Trust in 2010, Bloodhound is part of the Royal Sailing Exhibition and displayed alongside Britannia. During August, Bloodhound sets sail to Oban and is available for a day sail around the Western Isles, crewed mainly by Britannia's Former Royal Yachtsmen.
Coweslip
Designed and built by legendary sailor Uffa Fox, the Flying Fifteen 20-foot two-person keelboat was launched in June 1949. Coweslip is the most famous of the Flying Fifteens keelboats, having been presented to Her Majesty The Queen and Prince Philip as a wedding present in 1949. Prince Philip frequently sailed on Coweslip with Uffa Fox and, together, they had great success sailing competitively, including winning the Britannia Cup in 1952. In 1962 at Cowes, Coweslip nearly sank when she was hit by a gust of wind and capsized, throwing both Uffa and The Duke into the water. Coweslip has been kindly on loan to the trust since 2017.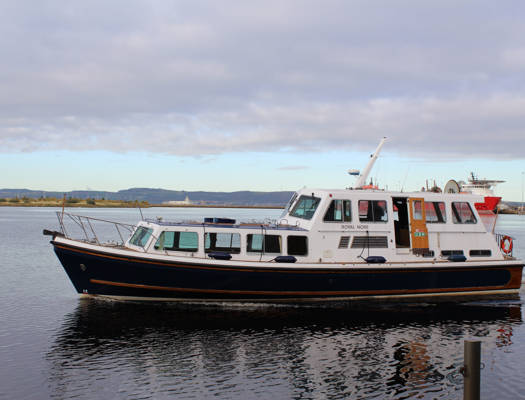 Royal Nore
A vessel that has been at the centre of Royal events on the Thames for over 40 years, the Royal Nore was used by Her Majesty The Queen for official visits on the Thames including: the official opening of the new London Bridge in March 1973; the Thames Barrier, in May 1984; the Millennium Dome in October 1991; and the Millennium Footbridge in 2002. At the centre of the River Progress and Pageant held to celebrate the Queen's Silver Jubilee in June 1977, the vessel was named 'Nore' at the time and was subsequently renamed Royal Nore in recognition of service by Royal Command.
The Royal Nore was gifted by the Port of London Authority (PLA) to the Royal Yacht Britannia Trust in July 2017