The Royal Deck Tea Room
Why not visit the Royal Deck Tea Room? You can enjoy freshly prepared, homemade food, stunning views and a warm welcome.
The menu includes speciality coffees and cocktails, tasty soups and sandwiches and mouth-watering cakes and scones, all made on board in our Royal Galley. Perhaps treat yourself to a Champagne Cream Tea in the very same spot where the Royal Family would have played deck games and entertained?
See our sample Royal Deck Tea Room menu*
Find out more about our onboard safety measures
*Prices and information are correct from 26 August 2021 and may be subject to change.
Admission
Please note you must purchase a Britannia admission ticket to visit the Tea Room and we are unable to take reservations (tables are allocated on a first come, first served basis).
The Tea Room is accessible for standard wheelchairs and buggies via the original internal lift from the Royal Bedrooms. If you are using an electric wheelchair, please speak to a member of staff for assistance. Also please refer to our Accessibility Statement.
Opening Times
| 2021 Admission Times | First Admission | Last Admission |
| --- | --- | --- |
| July - August | 10:00 AM | 16:15 PM |
| September - October | 10:30 AM | 15:45 PM |
| November - December* | 10:30 AM | 15:15 PM |
*The Royal Yacht Britannia is closed on 25 December and 1 January. Last admission to the Tea Room on 24 December is 2:45pm and 31 December is 3pm.
The Lighthouse Restaurant & Bar, Fingal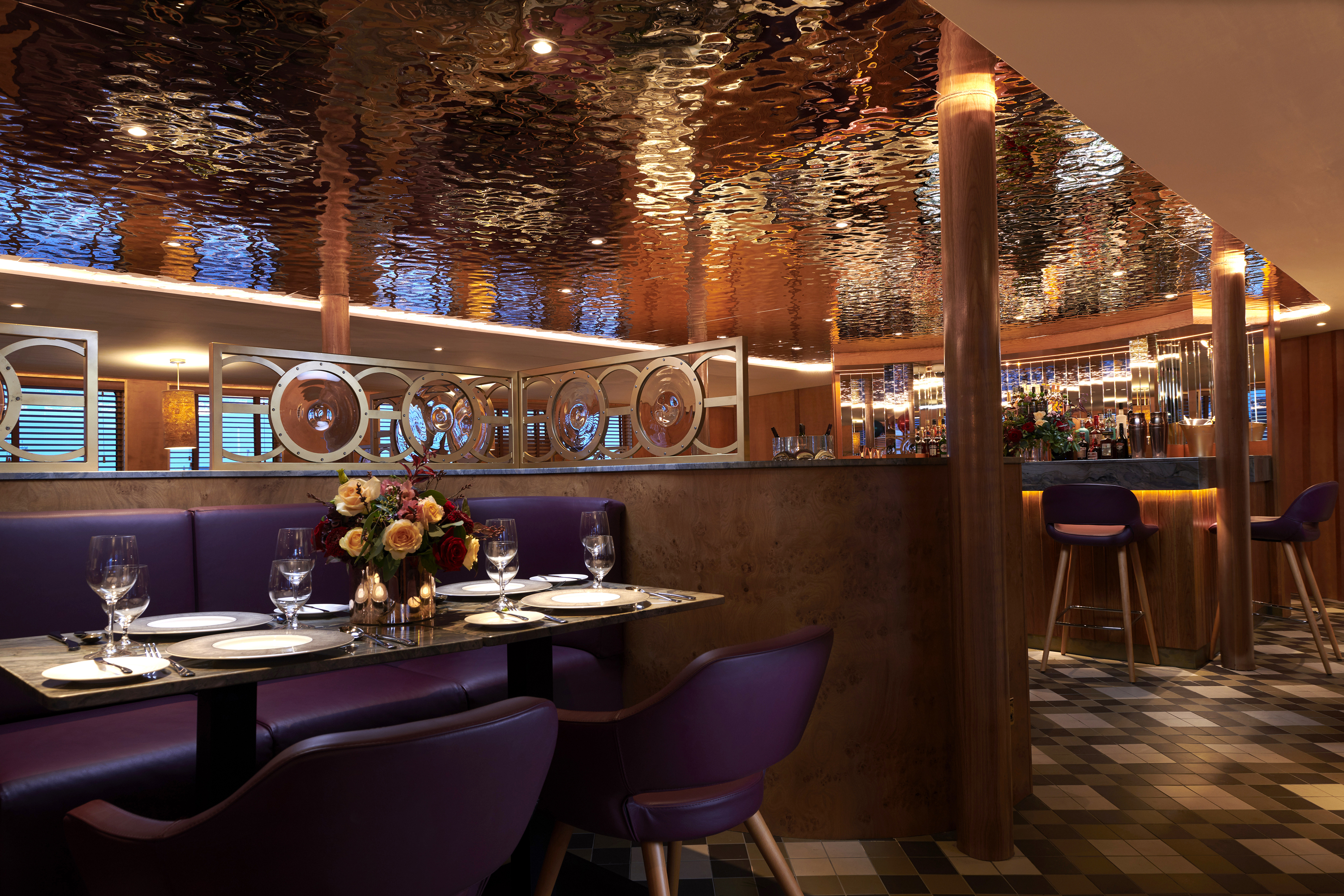 Visiting Britannia? Why not also enjoy an unforgettable experience at The Lighthouse Restaurant & Bar aboard Fingal, Britannia's sister ship and luxury floating hotel? Sit back and enjoy Fingal's delicious Afternoon Tea. This most decadent and dainty of British traditions is enjoyed with a backdrop of exquisite Art Deco interiors and views to match.
Experience beautifully prepared dishes bursting with flavour, created with passion by the galley team. Enjoy dinner on board including Fingal's smoked salmon, which is smoked on board, as well as delicious seasonal dishes.
Spend an evening in The Lighthouse Restaurant & Bar and explore the menu of sublime wines, liquors and beers. Or sample one of Fingal's signature cocktails, whilst relaxing in the beautiful Art Deco surroundings.