25 years!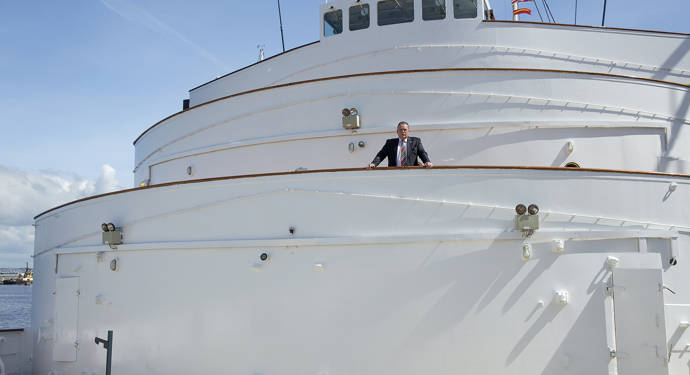 On 19 October, The Royal Yacht Britannia will reach 25 years as a visitor attraction. Reaching this landmark, we sat down with Chief Executive Bob Downie to talk through those first days, as the first employee of what would become an award-winning visitor attraction. 
Q: You were the very first employee in the company, what happened on your first day?
If you can indulge me and allow three 'first' days of significance: 5th May 1998, 20th July 1998, and 19th October 1998.
5th May is when Britannia first arrived in Leith. At 6.30am that morning, I had cadged a lift on the police launch and we sped down the coast to be the first boat to welcome Britannia to the area. Upon seeing Britannia for the first-time off Port Seton, I told my police hosts that this was going to be my new project as once the Royal Yacht was safely in Leith, I was going to formally accept the job offer that Forth Ports had kindly made.
Whilst working my notice period with Scottish Enterprise, I drew up Britannia's first Business Plan and set about recruiting our new Management Team, and appointing a design team. It was a crazily busy time effectively doing two full-time jobs, so very early mornings, evenings, and weekends were all Britannia. To help, we had an amazing Temp, Rachel Girdler to support me.
20th July is when I officially started working for Britannia in an empty office on Commercial Street, we had no 'everything'. On this day, our first Head of Marketing, Julia Stephenson, also started, along with Rachel, who eventually became one of our Marketing Managers. Each Monday for the next four weeks, another Head of Department started, and we went about recruiting our first 40 staff. These days, everyone takes having the basics in business for granted, so it's hard to imagine having no desks, chairs, phones, computers, headed stationery, uniforms etc. Even getting a postcode was a memorable challenge, with the building still under construction on a street with no name! 
19th October we first opened to visitors. The previous day, I did one-to-one interviews and tours of the ship each hour with journalists from eight UK and Scottish newspapers, so they all had their stories already written. I went home very tired with very sore feet thanks to the teak decks! On the opening day, I had to be there for 6.30am to be interviewed on the two main Breakfast TV shows. It was a mentally and physically exhausting couple of days. After all the visitors left for the day, we celebrated with Champagne and chips!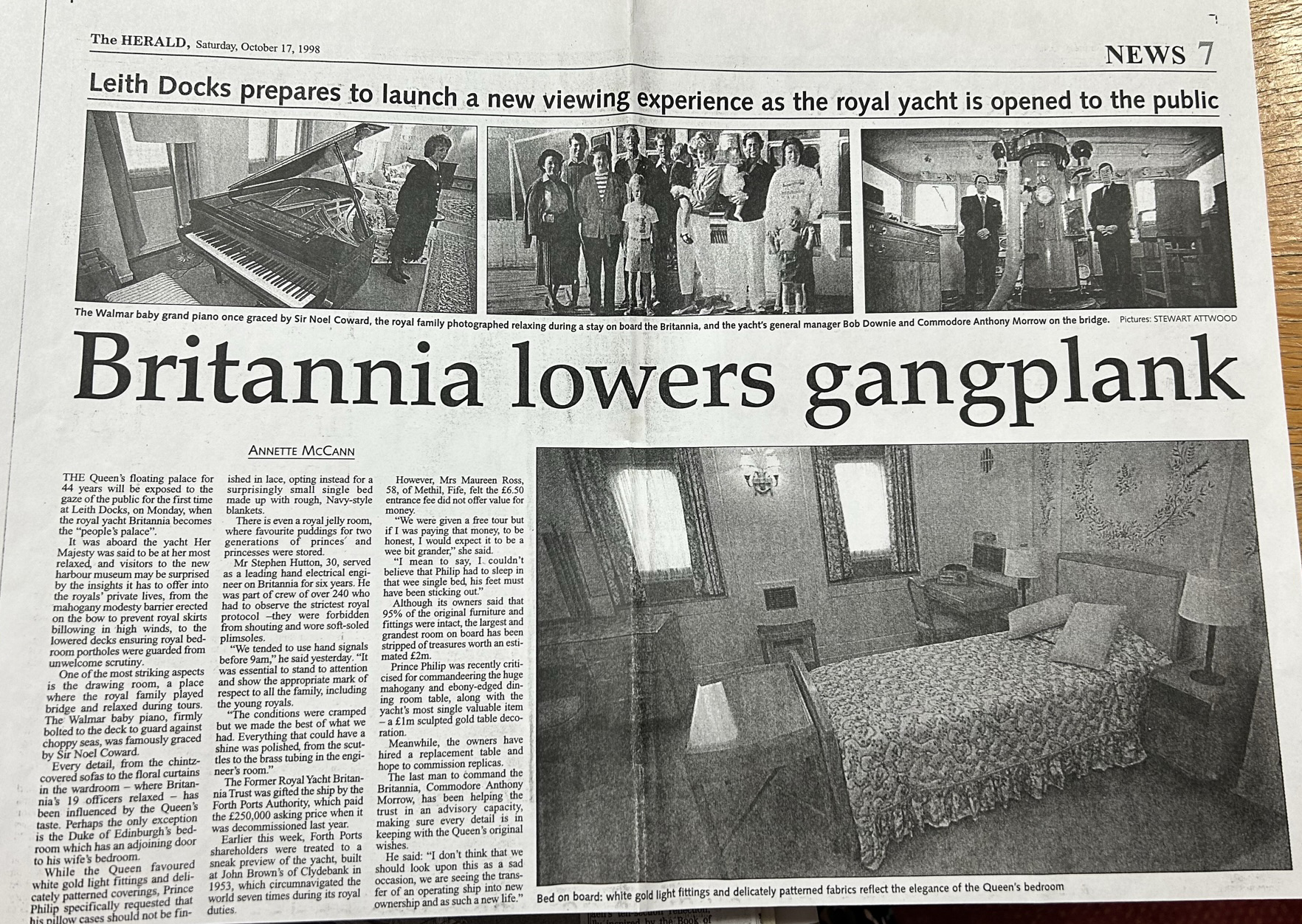 Q: What was the process to convert Britannia from a Royal residence to a visitor attraction?
The early months were very much a fear of the unknown. All the furniture, paintings, and other artefacts from Britannia's Royal quarters had gone back to Windsor Castle, and all the Navy artefacts from the other half of the ship had remained in Portsmouth. We then had to negotiate to have them returned, but as we were an unknown entity, with no track-record, nor personal connections, this was a huge leap of faith on behalf of the Royal Collection Trust, the Royal Navy, and the Britannia Officers' Wardroom Trust, and I had to work hard to convince them that they could trust us to do what I said we would do. It's very strange to imagine this now, but establishing these personal relationships led to a second furniture lorry full of Royal Collection artefacts arriving before we opened!
25 years ago, the notion of offering full disabled access was still in its infancy, but such was the enormous public interest in seeing Britannia, I wanted to ensure that we were fully compliant, and this involved removing some trip hazards on the ship and effectively designing a one-way self-guided tour route, as well as having an external lift tower and stairwell to allow visitors to access all decks. One challenge to balance was allowing the public to see some of the smaller and more private Royal quarters, yet the rooms were too small to allow more than a few visitors at a time in them, so the solution was to cut away the bulkheads (walls) and install glass viewing panels.
We appointed visitor attraction design consultants to help us design our new visitor centre, and interpret the ship itself, which we did by way of an audio tour, the script for which Britannia's last captain, Commodore Tony Morrow CVO, helped us with.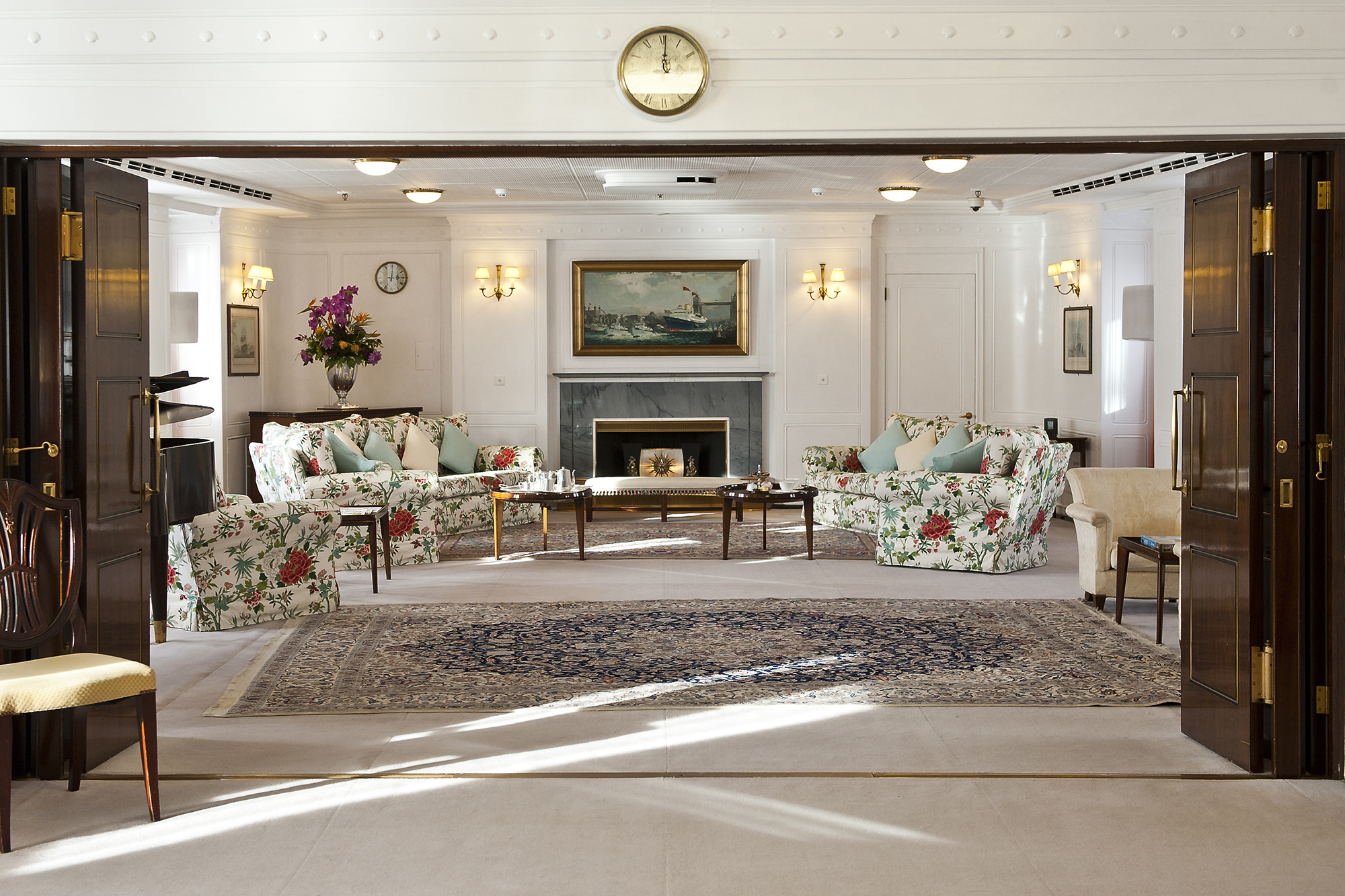 Q: Tell us about opening day, were there lots of people? Did it all go smoothly?
The opening day is best described as organised chaos and great fun. Such was the enormous public interest in seeing Britannia, I decided that we would be entirely pre-booked tickets, a first for a visitor attraction 'back then'. This meant that there were not the great queues 'round the block' that everyone was used to seeing when something major opened or at the Boxing Day sales etc, although some of the newspapers didn't understand why there were no great queues!
Q: Britannia now has quite a fleet, including luxury floating hotel Fingal, how did the idea to transform a Northern Lighthouse tender come to fruition?
About 30 years ago, I attended a major events' conference in Stockholm and stayed on a fairly basic floating hotel, Mälardrottningen. Fast forward to the mid 2000s and we were considering buying a converted Norwegian car ferry that was now a floating restaurant. Whilst this idea never came to fruition, we were now more conscious that whilst we had very limited quayside land, it was a big dock, and another ship project might be on the horizon. Regarding Fingal, or Windsor Castle as it had been renamed, I guess the stars aligned, as had I not grown up in Oban, Fingal's home port for most of its working life, and known what a beautiful ship it was, the project probably would never have happened. Had you seen how well-preserved Fingal was in the 14 years that it was moored in the River Fal after being sold by the Northern Lighthouse Board, you would appreciate what a huge dilemma it was to decide to hollow it out and create the new decks. The converse of course was that it would have been sold for scrap. In this respect, I am both very pleased and relieved that so many of Fingal's former crew, their families, and West-Coasters who have very fond memories of seeing Fingal sailing in their coastal waters have expressed their delight that this beautiful ship has been preserved for many years to come. The fact that the negotiations to buy Fingal took over four years is another story!
Q: Over 25 years, what are your highlights?
An impossible question to adequately answer as there have been so many great highs. Seeing our staff blossom and embrace our customer-focussed philosophy is at the heart of the great success of our charity and has helped ensure that we have always been self-financing, so that has to be the ultimate highlight.
In 2000, we were awarded the top five-star rating from VisitScotland, which we still hold to this day. At the time we were only the third attraction in Edinburgh to do so. In 2014 Britannia was ranked Tripadvisor's No.1 UK Attraction for the first time and officially Scotland's Best Visitor Attraction for the 10th year running. To have your visitors rate you as the best in the UK at the same time as your national tourist board's quality assessors rate you as the best is fantastic.
In March 2010, the Royal Deck Tearoom was added to the Yacht, re-creating the awning-style roof and historic appearance of the Royal Deck, with floor to ceiling glass windows looking out to the great waterfront views. The team of chefs create all the items on the menu in the Galley kitchens, a truly unique experience for our visitors.  
We have been running evening events on board Britannia since we first opened but being able to bring our catering in-house is a memorable moment. The high standards expected during Royal service are replicated on board by all, from the chefs in the Galley creating all the elements from the sauces upwards, to the meticulous planning by the Events Team. This was recognised with the 'Most Excellent Dedicated Venue' award by Condé Nast.
This approach to achieving excellence then led to us developing Fingal, a former Northern Lighthouse Board tender, into a luxurious floating hotel that HRH The Princess Royal opened, and receiving the Pride of Britain - Hotel of the Year Award, as well as being AA Hotel of the Year - Scotland.
I am also extremely proud that we have built up a great working relationship with the Royal Collection Trust as without the loan of their artefacts we would have a hollow ship. We have also built up a wonderful relationship with the Association of Royal Yachtsmen, the Yotties, and love hosting their annual Working Party each May and their Biennial Reception.
Buying former Royal Racing Yacht Bloodhound in 2010 was also the beginning of an interesting journey that has led to us having custody of Coweslip and Bluebottle, meaning that all three of the royal sailing yachts were united for the first time. The restoration of Bluebottle, from nearly being broken-up, to racing again for the first time in 60 years, winning major events and being 3rd this year in the World Championships is an astonishing story!
To finish on some real highs: Zara Phillips pre-wedding party on Britannia was a very memorable event, the first time we had hosted any of the Royal Family. We were also greatly honoured by Queen Elizabeth II dining in Fingal's Lighthouse Restaurant one busy Saturday night, much to the astonishment of all the other diners and most of our staff. Then, most recently, hosting HM King Charles III when He visited Britannia to help commemorate our first 25 years in Leith has been a wonderful closing chapter in my memorable career. However, given the journey we have been on, from complete novices to being awarded various UK quality awards for both ships, my proudest achievement must be getting to the stage where Queen Elizabeth II had the confidence and trust to gift us Prince Philip's Mess Dress, and No.1 Navy Uniforms. For such very personal items to be gifted out of the Royal Family is extremely unheard of.