Planning an event fit for a King!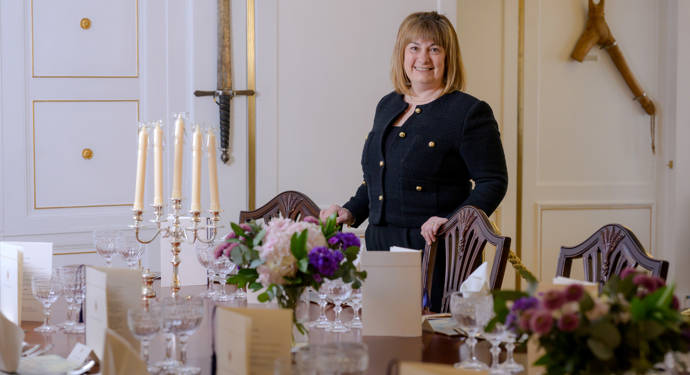 Our Events team aboard the Royal Yacht are accustomed to organising events of the highest standard to create the event of a lifetime. When they were asked to organise a reception for His Majesty King Charles III, our team were ready for such an occasion!
Head of Sales & Events, Diane, tells us what it was like to plan an event for Royalty.

What was it like organising an event for HM The King?
It was a true honour to be part of organising this event, a reception for the Association of Royal Yachtsmen to commemorate 25 years since Britannia arrived in Leith. This was quite surreal, to see His Majesty arrive, from his first steps up the Royal Brow. It was easy to see His joy at being back on board.

Was this your first time organising a Royal event?
In 2011, Zara and Mike Tindall held their pre-wedding reception on board. This was such a wonderful occasion to be a part of, to be involved in every detail of the planning, through to the delivery on the night for over 150 guests from the sporting world, celebrities and of course the Royal Family. 

How does organising this event compare to other events on board?
Our team are truly discreet, confidentiality is a given, therefore our Britannia butlers, in their crest embroidered uniforms, serve with ease. A key aspect of any event on board is an exacting attention to detail, our patience and passion for delivery comes second to none, standards very much in keeping with how state occasions were delivered when the Yacht was in service. Due to this – the only difference to organising an event for the Royal Family to our client events, was extra security.
The talented Galley chefs create stunning dishes for each event with every element, from the freshly baked bread to the tuiles, made in the Royal Galleys. For The King's visit, delicious canapés were served, a perfect bite-sized delight.

What is your favourite part of a Britannia event?
After 16 years of being on board both Britannia and now looking after Sales & Events on our luxury floating hotel Fingal too – I never tire of seeing our guests during arrival, their delight evident for the exceptional evening ahead.
However, on Monday night specifically, it was of course when I met His Majesty, a memory I will always treasure. This was a tremendous occasion for all the Team on board Britannia – The King was so interested in how we deliver our Events on board and was very happy to be back.